Mecca of mountain worship and Shugendo (mountain asceticism) (Yoshino, Nara)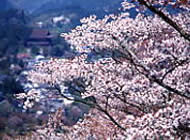 Yoshino is in the northern reaches of Yoshino-gun, in the central interior of Nara Prefecture. The town is crossed down the middle by the east-west flowing Yoshino River. Within the town limits are found the Yoshino-Kumano National Park and Yoshinogawa Tsufuro Nature Park, while the cherry blossoms of Mt. Yoshino are known throughout Japan.
Blessed with pristine mountain torrents, Yoshino was settled long ago because of its strategic location along ancient byways between Kishu, Ise, Kyoto, Nara and Kumano.
Since long ago, the area has been recognized and revered as a holy land for mountain worship, but come the Nara Period, En no Gyoja built facilities for attaining enlightenment via a mountain-dwelling lifestyle and ascetic practices in the Kinpu Mountain Range that stretches from Yoshino to Omine. From that point through the middle ages, Yoshino thrived as Japan's largest mecca of Shugendo or mountain asceticism unique to Japan.
Today, the area is registered as a World Heritage under the acclaimed title of Sacred Sites and Pilgrimage Routes in the Kii Mountain Range.

By train
By car
From Osaka
Take the Yoshino Limited Express from Kintetsu Abenobashi Station … Approx. 1 hr 15 min.
From JR Tennoji Station, change at Oji-Yoshinoguchi Station … Approx. 1 hr 30 min.
From downtown Osaka
Take Natl. Rt. 24 from the Koriyama IC of the Nishimeihan Expressway to Natl. Rt. 169 via Kashihara … Approx. 2 hr.
Take Natl. Rt. 165 (Takada Bypass) from the Mihara Junction of Hanwa Expressway through Kashihara to the Katsuragi IC of the Minamihanna Expressway, then follow Natl. Rt. 169 … Approx. 1 hr.

1.Kintetsu Yoshino Station

2.a cable car Yoshinoyama

3.Kane-no-torii Shinto Arch

Though old as it is, this Shinto arch was rebuilt in the Muromachi Period (14th century) after the original had been burned down by war in 1348

4.Zao-do of Kinpusen-ji Temple

Since long ago, the Kinpu Mountain Range that stretches from Mt. Yoshino to Mt. Sanjo has been known as a holy land and visited by many of the Japan's nobility.

5.Yoshinoyama Visitor Center

The Yoshinoyama Visitor Center was built to help visitors to Mt. Yoshino better understand the natural environment and history of the local area.

6.Yoshimizu-jinja Shrine

Legend tells that angels appeared and danced before Mt. Sodefuri behind the shrine when Prince Oama played the koto in front of the shrine.

7.Katte-jinja Shrine

Legend tells that angels appeared and danced before Mt. Sodefuri behind the shrine when Prince Oama played the koto in front of the shrine.

8.Chikurin-in Temple

Reportedly built by the Prince Shotoku, a statue of the prince sitting down is found inside the main hall and revered as a benefactor.

9.a cable car Yoshinoyama

10.Kintetsu Yoshino Station