Exploring history in the gold and silver hot springs of Arima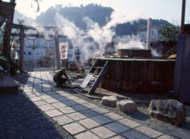 The origin of Arima Hot Springs, famous as the oldest working spa in Japan, dates back to the age of mythology. The Nihon Shoki that chronicles Japanese history tells of visits by the Emperors Jomei and Kotoku, and Onsen-ji Temple that was built by the monk Gyoki in the Nara Period. In the Kamakura Period, the monk Ninsai visited the area and built twelve lodgings for the twelve generals that protect the Buddhist god of medicine, Yakushi-nyorai. Moreover, the warlord Hideyoshi Toyotomi was fond of the area and visited here often. The bath and other unearthed artifacts associated with Hideyoshi can be viewed along with an introduction to the history and culture of Arima at the Taiko-no-yudono Museum.


1.Sannomiya

2.Arima

It is said that, after the monk Gyoki built Onsen-ji Temple here in the Nara Period, the aristocracy came from the cities to bathe.

3.Taiko-bashi Bridge and Yukemuri Hiroba

Taikohashi is the longest bridge in Airma Hot Springs.

4.Tsutsumi-gataki Falls

The falls are a scenic spot in Arima found at the far end of Zuihoji Park, but the entire park changes colors beautifully with the seasons.

5.Death Trap for Birds and Insects

Near to the entrance to Mt. Atago is the "Torijikoku", literally "bird's hell".

6.Tosen-jinja Shrine

Located halfway up Mt. Atago, this shrine reveres the three gods Onamuchi-no-mikoto, Sukunahikona-no-mikoto and Kumanokusumi-no-mikoto.

7.Onsen-ji Temple

Also known as Yakushido, this temple is said to have been built by the monk Gyoki in the Nara Period.

8.Taiko-no-yudono Museum

9.Arima Atelier

10.Kinnoyu

A public bathhouse featuring the kinsen around which the spa grew was opened in December 2002.

11.Ginnoyu

Ginnoyu is a public bathhouse with carbonated baths of the colorless ginsen or "silver springs", and radium baths.

12.Zuihoji Park

This is a choice location for enjoying the four seasons with cherry blossoms in spring and colorful foliage in autumn.