Walking around Osaka-jo Castle, the symbol of Osaka (Osaka, Osaka)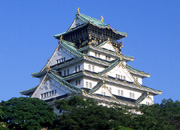 From its perch amongst a green-rich park slightly east of the center of Osaka City, Osaka-jo Castle is the symbol of Osaka. The mammoth castle that the Hideyoshi Toyotomi had built to symbolize his dominance within a country torn by civil war was later burned by war itself. The keep that had been rebuilt in the Edo Period was also lost, this time to lighting.
The current keep was built atop the stone foundations of the Tokugawa years in 1931, and paid for by donations from many residents. Inside are on display numerous historical materials including Important Cultural Properties.
Nearby are found a 7th century tumulus, the site of the Naniwa-kyu Palaces, the Osaka Museum of History that introduces the local history and areas where the history of Osaka can be strongly sensed.
By train
By car
Approx. 5 min from Osaka (Higashi Umeda Station)
Take the Tanimachi Subway Lline to Tenmabashi Station and exit from Exit No. 3 or ride to Tanimachi 4-chome Station and exit from Exit No. 1-B.
Approx. 5 min from Osaka (JR Osaka Station on the Loop Line)
Take the JR Loop Line to Morinomiya Station or Osakajo-koen Station.
From Kobe … Take the Hanshin Expressway Higashi-Osaka Route (No. 13) and exit at Hoenzaka.
From Higashi Osaka … Take the Hanshin Expressway Higashi-Osaka Route (No. 13) and exit at Morinomiya.

Treasury
This treasury is the only earthen-walled storehouse existing on the grounds today from Tokugawa's castle layout. It served to store the gold of the bakufu government. It was built in 1624 by the 3rd generation Shogun Iemitsu Tokugawa and then was remodeled to its present state in 1837. It is designated an Important Cultural Property of Japan.

1.JR Osaka-jo Kouen Station

2.(Rord Train)

3.The tower of Osaka Castle

The current tower was built in 1931 after about 260 years of absence, therefore it is the third to stand on the site since the first was built by the Hideyoshi Toyotomi.

4.Sakura-mon Gate

The Sakura-mon Gate is the main entrance to the inner citadel and located directly south of the keep.

5.Hokoku-jinja Shrine

This shrine was originally built in the foothills of Mt. Higashi in Kyoto as the last will and testament of the Hideyoshi Toyotomi.

6.No. 6 Watchtower

The No. 6 Watchtower was one of the corner emplacements for protecting the southern side of the inner citadel.

7.Sengan-yagura Watchtower

This watchtower was important in defending the Ote-mon Gate from the northwest.

8.Otemasugata and Tamon-yagura Guardhouse

Just inside the Ote-mon Gate is the Otemasugata, a box-like enclosure formed by boulders and earthen walls that served to defend the entrance to the castle.

9.Ote-dobashi Bridge and Ote-mon Gate

Of the four entrances to Osaka-jo Castle, the front entryway is known as the Oteguchi.