Visiting the Osaka's stages of rakugo and performing arts (Osaka)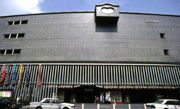 This course takes you to Osaka's "Minami" area, an energized part of the city where locals seek fun and excitement via the cultural arts and entertainment.

1.JR/subway Nippombashi Station

2.National Bunraku Theater

This theater was built to preserve and promote the traditional performing art of bunraku puppetry.

3.Hozenji-Yokocho

The alleyways of street stalls that crisscross Tenryuzan-Hozen-ji Temple of the Joto Sect of Buddhism are where worshippers keep each other company.

4.Ebisu-bashi Bridge

This is one of the many bridges that earned Osaka a reputation as a city of bridges.

5.Dotonbori Area

The Dotonbori area is where Osaka's beginnings as a city of theaters can be traced backed to.

6.Kozu-gu Shrine

This shrine is said to sit on the site of the Naniwa Kozu-gu Palace where the Emperor Nintoku moved his government in the 4th century.

7.Ikukunitama-jinja Shrine

This shrine venerates the god of birth and the god of satisfaction.