Walking the Kinukake-no-michi Trail in the foothills of Mt. Kinugasa (Kinukake-no-michi, Kyoto)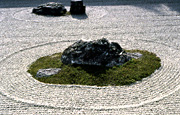 Mt. Kinugasa is also known as Mt. Kinukake, literally meaning "draped with silk", because its slopes were covered in white silk to create a snow-capped look at the wishes of Japan's 59th Emperor, Uda, who desired to see a snowy landscape in the middle of summer. Winding through the foothills of this Mt. Kinugasa is a roughly 2.5 km long path known as the Kinukake-no-michi. It starts from Kinkaku-ji Temple that symbolizes the Kitayama culture and served the Muromachi General Yoshimitsu Ashikaga as a hiding place during war, passes by Ryuan-ji Temple famous for its rock garden that expresses the Zen mindset and arrives at Ninna-ji Temple in Omuro, which once served as the residence for the Emperor Uda. This is an excellent area for walking and enjoying temples, shrines, galleries, museums and more.
By train
Take City Bus Nos. 101 or 201 from JR/Kintetsu Kyoto Station and get off at Kinkakuji-michi.
Take City Bus Nos. 12 or 59 from Keihan Sanjo Station or Sanjo Keihan Subway Station and get off at Kinkakuji-mae.

1.JR/Kintetsu Kyoto Station

(a municipal bus)

2.Kinkaku-ji Temple

Once the villa of the Muromachi General Yoshimitsu Ashikaga,

3.Insho-Domoto Museum of Fine Arts

This museum puts works by Insho-Domoto, renown Japanese artists, member of the Japan Art Academy and recipient of the Order of Cultural Merit from the Emperor of Japan, on a chronological display.

4.Toji-in Temple

This temple is known as the family temple of the Ashikaga Clan because it houses wooden statues of 15 generations of Ashikaga generals.

5.Ryoan-ji Temple

This well-known Zen temple is famous for its rock garden.

6.Ninna-ji Temple

Built by the Emperor Uda, this where he came to live once retired.

7.Keifuku Electric Railroad Omuro Station