Walking tour from the Meiji and Taisho era quarter of Rakuchu and Sanjo-dori to the temples and shrines around the Kyoto Gyoen National Garden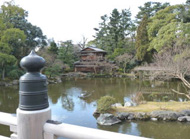 Sanjo-dori in the Rakuchu quarter of Kyoto functioned as the main street of the Kyoto in the Edo Period and a key point of traffic and distribution as the starting point of the Tokai-do Byway. In the early Meiji Period, it was the city center where cultural, educational, financial and information entities concentrated.
The Sanjo-dori area of Kyoto City retains a cityscape that has been designated a scenic zone.
The Kyoto Gyoen National Garden plays an important role as green-rich park in the center of ancient capital district. There, you can find remains of homes and gardens of the aristocracy and trees more than 100 years old. The surrounding area has also several temples, shrines and sites dating back to the Heian Period.

1.subway Karasuma Oike Station

2.Rokkaku-do (Choho-ji) Temple

It is said that this temple's beginnings date back to the Prince Shotoku who, visiting the area in quest of materials to build the Shintenno-ji Temple Sanctuary, erected a small hexagonal temple and there enshrined a statue of Nyoirin kannon bodhisattva of the Buddhist invocation he brought with him.

3.Nakagyo Post Office (Original Facade)

Built as the Kyoto Post and Telegraph Office in 1902, this Neo Renaissance building is a representative post office of its day.

4.The Museum of Kyoto

This museum opened in 1988 amidst commemorative celebrations for the 1,200th Anniversary of the Heian Capital, as a comprehensive cultural facility for introducing the history and culture of Kyoto in an easy-to-understand manner.

5.Kaleidoscope Museum of Kyoto

The kaleidoscope was invented by the Scottish physicist Sir David Brewster while conducting research into light reflection and mirror refraction.

6.Horino Memorial Museum

This is the birthplace of the source water used to brew Kyoto sake.

7.Kyoto Gyoen National Garden

The entire area enclosed by the earthen wall around the Omiya and Sento Palaces of the Kyoto Imperial Palace, which operated as a palace until the Edo Period, is called the Kyoto Gyoen or "imperial garden of Kyoto".

8.St. Agnes Episcopal Church

The brick gothic building was designed by James McDonald Gardiner, the first dean of Rikkyo (St. Paul's) University.

9.Nashinoki-jinja Shrine

Revered by this shrine are the father-son pair of Sanetsumu and Sanetomi Sanjo, two persons of merit in Japan's Meiji Restoration.

10.Rozan-ji Temple

This temple was built during the reign of Emperor Tengyo (931 - 947) by the monk Ryogen (Gansan Daishi) of Hieizan Enryaku-ji Temple.

11.Shokoku-ji Temple

This temple is the headquarters if the Shokokuji School of the Rinzai Sect of Buddhism and the second of the five great Zen temples in Kyoto.

12.subway Imadegawa Station