A town with a castle and acclaimed history of floats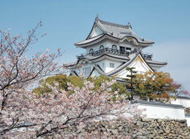 Overview: Kishiwada is famous all over Japan for its Danjiri Matsuri (festival of floats). The festival is more than 300 years old and is one of the most representative celebrations of Japan.
Kishiwada began as a fiefdom that grew around Kishiwada-jo Castle. Inside the reconstructed keep is a museum of artifacts and information from the local area.
How to get there - By train
How to get there - By car
From Osaka
Take the Nankai Limited Express or Express Service from Namba Station to Kishiwada Station.
From downtown Osaka
Take the Hanshin Expressway Bayshore Route to the Kishiwada Minami IC … Approx. 25 min.

1.JR Nankai Kishiwada Station

2.Hontoku-ji Temple

This temple of the Rinzai Sect of Buddhism is said to have been built by Bonki Nangoku, son of General Mitsuhide Akechi of Japan's years of civil war.

3.Machizukuri-no-yakata

The facility was opened in September 1997 on the Kishu-kaido Byway that has been lined since long ago with private homes and shops.

4.Tensho-ji Temple (Tako-jizo)

Legend has it that, when Kishiwada-jo Castle was in danger of falling, the guardian jizo saved it by transforming himself into a giant octopus.

5.Danjiri Center

Started in the mid Edo Period, the Danjiri Matsuri draws big crowds every year because of its vibrancy and commoner roots.

6.Kishiwada-jo Castle

The castle was originally built by Takaie Wada of the Masashige Kusunoki Clan.

7.Kishiki-jinja Shrine

In the 13th century, Yasaka-jinja Shrine of Kyoto was moved to this site and renamed Gozutenno in its capacity as the village shrine of Kishiwada.

8.Nankai Kishiwada Station

9.Natural History Museum, Kishiwada