Otsu City (Shiga Prefecture)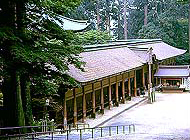 It takes only a 10-minute ride by JR from Kyoto to Otsu City.
Please come and see Otsu when you visit Kyoto. The Sakamoto area, Lake Biwa and Ishiyamadera Temple are good attractions that can be seen in a day.
You can also get here by cable car and ropeway, crossing over Mt. Hiei from Kyoto.

How to get there - By train
How to get there - By car
15 min from JR Kyoto Station
Take the JR Biwako Line. Change to the Kosei Line at Yamashina Station and get off at Hieisan sakamoto Station.
Meishin Expressway
40km via Suita JCT - Otsu IC … Approx. 30 min
Meishin Expressway
10km via Kyoto Higashi IC Nishiotsu Bypass (Toll-free) Sakamoto, etc. … Approx. 15

| | |
| --- | --- |
| | |
| 7 | |
Kyoto Station

(Bus)

1.Yase-Station(Cable car)

2.Hieizan Enryaku-ji Temple

(Cable car)

Sakamoto

3. 13 Stone Buddhas

These sitting Buddhas in stone are 160cm high and 130cm across at the knees.

4.Jigen-do Temple

This temple honors the monk Tenkai (Jigen)

5.Shigain-monzeki Temple

This is the main residence of Enryaku-ji Temple where the head monks stayed over the years. The stonewalls make it look somewhat like a castle.

6.Kyuchikurin-in Abbey

This is one of the abbeys/retreats serving Enryaku-ji Temple.

7.Hiyoshi-taisha Shrine

This is the headquarters of more than 3,800 shrines of Sanno Shintoism.

8.Shogen-ji Temple

This temple is said that it was built by the monk Saicho in the late Nara Period.

9.Keihan Sakamoto Station

10.JR Hieizan Sakamoto Station