Strolling down streets of another world not Japan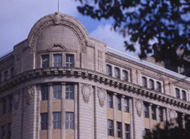 Pronounced "Kyoryuchi", it literally means the "former foreign settlement". Today, this section of Kobe still retains many vestiges of the foreign merchants who settled here in the latter half of the 19th century after the port of Kobe was opened to world trade. You find retro-styled buildings and an atmosphere of another world.
Flower Road, which extends towards the sea from the Sannomiya-Motomachi area, is the main street beautifully decorated with flowers in every season. West of Tor Road, which crosses Kyoryuchi north to south, is Nankinmachi, Kobe's own miniature version of Chinatown adrift in an Oriental mood.


1.Sannomiya Station

2.Flower Clock

Located on the north side of Kobe City Hall, this flower clock was the first of its kind in Japan.

3.Higashi Yuenchi Park

This park is just south of Kobe City Hall.

4.Hanshin-Awaji Earthquake Memorial and 1.17 Torch of Hope

The 1.17 Touch of Hope was lit on January 17, 2000 in Higashi Yuenchi Park as a memorial to those who perished in the Hanshin-Awaji Earthquake (South Hyogo Prefecture Earthquake) and to pray for Kobe's recovery and rebirth from the devastation it caused.

5.Kobe Customs Museum

This museum presents the history and roles of the customs house and tells the story of trade through the Port of Kobe in an easy-to-understand fashion.

6.Kobe City Museum

The building with its round Greek columns was formerly a branch of the Tokyo Bank.

7.Kyoryuchi

Much still remains of this former enclave of foreign merchants in this port city.

8.Nankinmachi

Nankinmachi is Kobe's Chinatown. It is full of Chinese restaurants and stores selling Chinese foods and goods.

9.Kobe Overseas Chinese History Museum

This museum introduces the history of Chinese people living in Kobe.