Ikaruga (Nara Prefecture)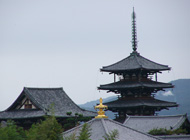 Ikaruga is located in the northwest corner of Nara Prefecture.A visit here is a romantic journey into the history of Prince Shotoku with wonderful temples and shrines, to note Horyu-ji Temple, Hoki-ji Temple and Horin-ji Temple, set amidst an idyllic setting of rice paddies and mountain backdrops. The Horyu-ji Temple Complex, made famous by Shiki Masaoka in his haiku "Kaki Kueba Kane Ga Naru Nari Horyuji ('Eating persimmons, the bell of Horuiji rings')", is roughly in the center of the town. It is widely known as the oldest wooden structure in the world and the complex of Buddhist buildings that includes it and Hoki-ji Temple was the first cultural property in Japan to be registered as a World Heritage.
How to get there - By train
How to get there - By car
Approx. 35 min from Osaka.
Take the JR Yamatoji Line from Osaka Station to Horyuji Station.

Take the Kintetsu Line from Namba station to Tutui station (change at Yamatosaidaiji statioon ...Approx. 50 min)

Approx. 1 hr from Kyoto.
Take the JR Nara Line from Kyoto Station to Nara Station. Change to the Yamatoji Line and get off at Horyuji Station.
Short distance north from the Horyuji IC of the Nishimeihan Expressway.

| | |
| --- | --- |
| | |
| 4 | 10 |
1.JR Horyuji Station

2.Horyuji i Center

Horyuji i Center is your source of information on Horyu-ji Temple and other places in Ikaruga.

3.Fujinoki Kofun Museum

4.Fujinoki Tumulus

This large circular burial mound is estimated to have been built in the later half of the 6th century prior to Prince Shotoku building his Ikaruga Palace (601)

5.Nishisato

The hamlet of Nishisato grew as a home for imperial carpenters who worked mostly on Horyu-ji Temple.

6.Horyu-ji Temple

The complex has many temples worth seeing including the Kondo, which is the world's oldest wooden building, and Yumedono

7.Chugu-ji Temple

This was the home of Queen Hashihito, mother to Prince Shotoku.

8.Ikaruga-jinja Shrine

9.Horin-ji Temple

It is said that Oe Yamashiro, son of Prince Shotoku, built this temple for his father.

10.Hoki-ji Temple

It is said that Oe Yamashiro, son of Prince Shotoku, converted his father's Okamoto Palace into this temple.

Bus center