Tracing the history of the Taika Reforms (Kashihara, Nara)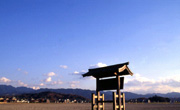 Kashihara is located roughly in the middle of Nara Prefecture.
Here, in a location in-between the three peaks of Mt. Unebi, Mt. Miminashi and Mt. Kagu, was once the Fujiwara-kyo Palace that served as Japan's first capital about 1,300 years ago back in the days of Manyo (7th century).
The area has many historical sites associated with the creation of Japan as a state.
By train
By bus
From Osaka
Take the Kintetsu Osaka Line (Limited Express Service) from Kintetsu Namba Station to Yamato-Yagi Station … Approx. 35 min.

From Kansai International Airport
Take the JR Kansai Kuko Line/Hanwa Line (Haruka Limited Express Service) from Kansai Kuko Station to Tennoji Station … Approx. 30 min.
Take the Kintetsu Minami Osaka Line from Kintetsu Abenobashi Station to Kashiharajingu-mae Station … Approx. 35 min. Change to the Kintetsu Kashihara Line and get off at Yaginishiguchi Station … Approx. 7 min.
Take the Nankai Rapito Limited Express Service to Nankai Namba Station … Approx. 30.
Take the Kintetsu Osaka Line (Limited Express Service) from Kintetsu Namba to Yamato-Yagi Station … Approx. 35 min.

☆JR Unebi Station can be reached on foot in about 10 min from Yamato-Yagi Station.
Kansai International Airport ⇒ Yamato-Yagi Station
(Nara Kotsu Bus Lines, Kansai Airport Transportation, Nankai Bus … Approx. 1 hr)

1.JR Unebi Station

2.Ofusa Kannon Temple

The principle image of this temple is an eleven-faced deity said to be the work of the Monk Kukai.

3.Fujiwara-kyu Palace Site

Located in the northwest corner of the Asuka area, where what is now Kashihara City.

4.Abemonju-in Temple

The principle image of this temple is the Majur bodhisattva or god of academics and wisdom, which explains why many of the worshipers seen here are students undergoing exams and elderly persons seeking mental health and alertness.

5.JR/Kintetsu Sakurai Station