Sakai (Osaka Prefecture)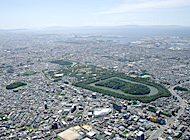 The largest tomb in the world is in Sakai City. The Daisen Park surrounds the Nintokuryo Tumulus. The tomb is not open to the public, but you can enjoy cycling around it. It's also very nice to enjoy a tea ceremony in the tearoom at Daisen Park. Sakai City Museum is in the park.
Sakai is a city of business-minded people that saw merchants imposing self-rule in the 15th century during Japan's years of war. As testimony to its past are attractions such as Daian-ji Temple associated with the merchant Sukezaemon Naya, and Xavier Park where a monument is found commemorating Francis Xavier's visit to Sakai as the first time that Christianity was brought to Japan.
How to get there - By train
How to get there - By car
From Osaka
Take the Nankai Main Line (Express Service) from Namba Station to Sakai Station … Approx. 9 min.
From Kansai International Airport
Take the Nankai Line (Limited Express Service) from Kansaikuko Station to Sakai Station … Approx. 24 min.
Approx. 4 min from the Sakai Exit of the Hanshin Expressway (Rt. 15)

| | |
| --- | --- |
| | |
| 4 | 6 |
1.Nanka Koya Line Sakaihigashi Station

2.Sakai City Hall (21st Floor Observation Deck)

On the top floor of the 80 m tall tower of the Sakai City Hall is a rotating observation deck with panoramic views of the city in all directions.

3.Site of Sennorikyu Residence

Here stood the home of Sennorikyu, the architect of the tea ceremony that came to symbolize Japanese culture.

4.Nanshu-ji Temple

This temple is associated with Sennorikyu.

5.Sakai Teahouses

Adjacent to the Sakai City Museum are the Obai-an and Shin-an Teahouses.

6.Sakai City Museum

Located in Daisen Park, this museum introduces the history of Sakai.

7.Nintoku Ryo Tumulus

This is one of the three largest burial mounds in the world.

8.JR Mozu Station